Now that you've faced your fears, use graphology for a change!
Compare the d and t of sensitive to criticism to the d and t of pride and dignity.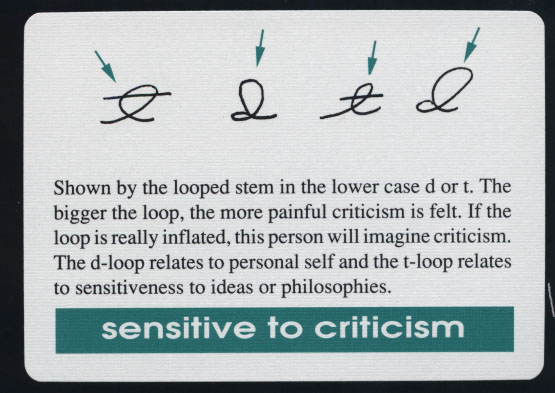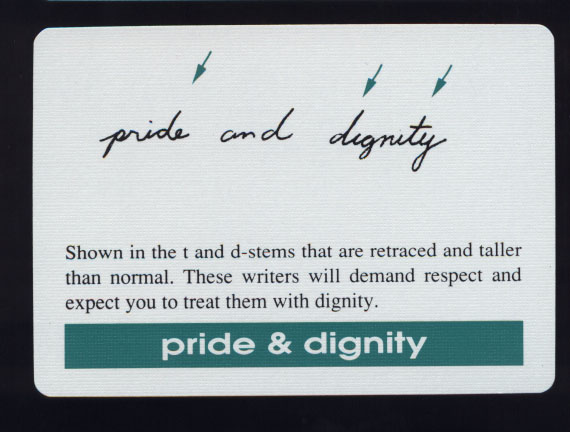 Change the loop in your d's and t's to be retraced stems and replace sensitivity to criticism with pride and dignity. Now you won't be bothered by what other people think or say about you!
Here is another fear you should get rid of...the fear of success.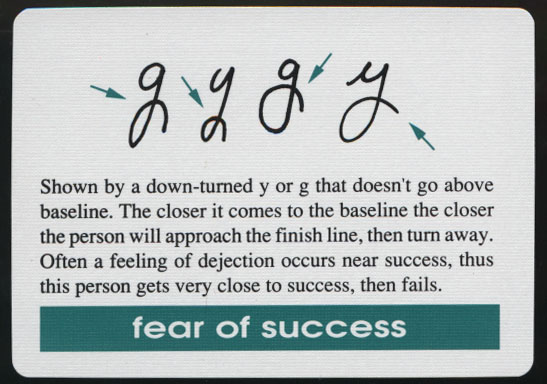 Let me tell you a story about a woman who wanted to come work for me.
To view lessons 1, 2, 3, 4, 5, 6, 7, 8, 9, 10 and 11 of this series click here!
You want to be successful, right?
So, what can you do about it?
If you want to change your fear of success, just make your y loop come back up and cross over the base line of your handwriting.
Alisa Cole did it and so can you!
"Within two weeks after I got the course I started to change my y loops and now I'm on my road to success because I no longer make my downward turning y loops. I'm not afraid of success anymore...yes, this is great!"
See what a difference it makes in your life. To find out other ways change your handwriting visit us at...
Change your handwriting, change your life!
-Bart Baggett
If you visit www.handwritingwizard.com you can analyze your own or some one else's handwriting for talkative, secretive, narrow-minded and more.
If you visit myhandwriting.com or handwritinguniversity.com you can learn how to do the analysis on your own and become certified.