One of the BEST uses of handwriting analysis today is self improvement!
What's the first step?
1. Get to know yourself.
Handwriting reveals level of self-esteem, past resetments and a few character flaws but the most important thing we can learn about ourselves is our fears and defenses.
Have you ever been mean to someone and later regreted it?
Why do you think you were mean?
Usually we are mean to others to defend ourselves from being hurt by them. Either we strike them before they strike us or we hit back when we feel bad.
No one wants to feel bad but it's not necessary to be defensive.
Look at the graphodeck card below for sensitive to criticism.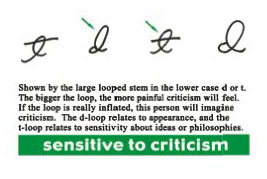 I used to have this stroke in my handwrting which revealed that I was sensitive to criticism, but do we really need to be?
So, what next?
2. Find the root cause.
When a person is sensitive to criticism, they have an overwhelming fear of being ridiculed. Perhaps they were picked on as a child or excluded from the group. This in turn makes it more painful to be ridiculed as an adult.
Get rid of the fear, the defense mechanism and the pain.
How?
3. Change the stroke in your handwriting.
This process is called graphotherapy and with it we can effectively remove defensive reactions from our character by changing the stroke. In this case, closing the d and t loops removes sensitivity to criticism and replaces it with a sense of pride and dignity.
Now, watch the video to find out what my favorite defense mechanism was as a child to avoid the fear of being ridiculed.
That's right. You guessed it.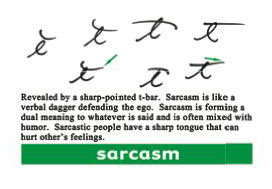 Sarcasm!
With a sharp-tongue, I went around trying to put down anyone I felt was a threat to my feelings.
Today, I use my sharp-tongue for stand up comedy!
For anyone on the self-improvement path we have developed some great products to help you use this great tool of handwrting analysis and the process of graphotherapy to change your life. Visit us here!
Change your handwriting, change your life!
-Bart Baggett
If you visit www.handwritingwizard.com you can analyze your own or some one else's handwriting for talkative, secretive, narrow-minded and more.
If you visit handwritinguniversity.com you can learn more about graphotherapy and our Change Your Life prodcuts.