One of the most popular topics in handwriting analysis is compatiblity in relationships and physical drives, specifically sexual drives.
Would you like to date someone with big long y loops or little bitty dangly y loops? Well, that would depend on your own y loops.
When we look at compatiblity in handwriting and secrets to a successful relationship, opposites might attract but eventually they repel.
That's why I suggest when you watch the video below, you look at your own y's first and find a partner with similar y loops.
Why?
Imagine your partner having a strong physical drive and always wanting you to play sports, go to the gym, and hike...while all you want to do is lay around all day and eat, talk, watching a movie.
Not very compatible, right?
Couples who have the same physical drive usually are much more satisfied in their relationships than those who don't, simply because you tend to want to do the same things and interact in a similar way.
This doesn't just apply to physical and sexual drives but also other important tendencies like spending time alone, using your imagination, and interacting socially.
Look at the y chart below and find your y (or g) loop.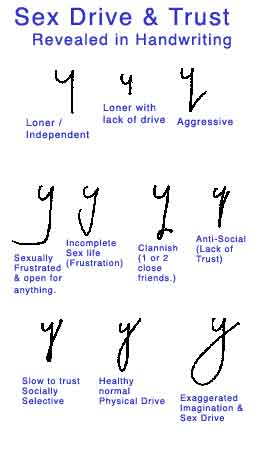 Now laugh along with this video as I explain more about sex & social drives.
What does your y loop reveal?
Here's another thing to remember.
Success in relaionships is dependent on a lot of factors. If you haven't learned about slants yet...take a moment to check out our new free online 7 day min course as www.handwritinganalysis.org.
Emotional slant in handwriting is the first thing I look at when assessing compatibility. If your very emotionally expressive and your partner is very logical and reserved, imagine the communication issues you will have.
You can probably guess how extremes in expressiveness can either intensify or balance out traits like the "loner" y.
Now you're stacking traits like an experts!
-Bart Baggett
If you visit www.handwritingwizard.com you can analyze your own or some one else's handwriting for talkative, secretive, narrow-minded and more.
If you visit myhandwriting.com or handwritinguniversity.com you can learn how to do the analysis on your own and become certified.