Handwriting University . com

---
Weekly Strokes Newsletter
---
---
TABLE OF CONTENTS
---
1. FEATURE STORY: Do You Write Like This! (You Should)
Written by: Bart Baggett
2.
SPECIALS
: Seminar tickets available, get certified 3.
STUDENT TESTIMONIALS
: "This course has been amazing!" 4.
CONTACT US
: We'd love to hear from you!
---
---
FEATURE STORY:
Do You Write Like A Self-Made Millionaire?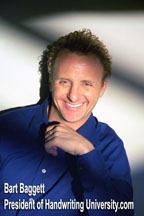 Written by
Bart Baggett

edited by Linda Hodges
---
Do think the handwriting samples of a typical self-made millionaire look different that your own? If so, what does that mean about his or her personality? Do you possess the following 'winning traits'?

1. High self-esteem
2. Persistence
3. Determination
4. Integrity
5. Emotional intensity
6. Vision
7. Big ego


Before I wrote my latest book, 'The Success Secrets of the Rich & Happy,' a 440+ page book, I drafted a fascinating article about how handwriting traits are typically found in the writing of successful men and women.

Naturally, my latest book goes into about 430 more pages of depth and instruction on how you can change yourself to become more wealthy and happy. I think you will find this on-line special report fascinating.


http://berichandhappy.com

"Bart Baggett's book, 'The Success Secrets of the Rich and Happy' is destined to become a classic. With deep insights and great simplicity, Bart has created a manual for success that should be read by everyone. If you read only one book this year, let it be this one."

-- John Harricharan, award-winning author of the bestseller, 'When You Can Walk on Water, Take the Boat' and creator of Real Happiness."

Just go on-line here:
http://handwritingexperts.com/reports/

========== Excerpt of Free Report ==========

'Do You Write Like a Self-Made Millionaire?'

Handwriting Reveals Your Success Potential and How You Can Improve Your Odds.

Do you have what it takes to become a multi-millionaire or historical leader of people? Do you write like real estate tycoon, Donald Trump, or perhaps the visionary orator who changed the face of America, Martin Luther King, Jr.?

What does it take to go from humble beginnings to a life of influence, contribution and wealth? Are you on the path to being a self-made super success - having abundance of time, money and freedom to do whatever you want? It isn't necessarily luck, hard work or timing that makes you rich.

In most cases, self-made men and women from all walks of life have certain personality traits in common. Therefore, in completely different circumstances, cultures, and having different resources, these people make the right decisions that make them rich. Are you headed in the right direction?

I've spent much of my adult life researching this topic. I am insatiably curious about how some people lead a life of luxury, and others with equal or greater potential choose a life of misery and poverty. I am always asking the successful people I meet, what it took for them to get there. The answers vary. Many weren't quite sure themselves how they had accomplished so much.

As I looked at their handwriting, certain patterns and themes emerged. In fact, with few exceptions and high accuracy, I can now spot a person on the path to greatness, just by looking at their handwriting. Likewise, there are certain different traits that failures often possess. I have trained myself to spot these. I have narrowed down the hundreds of handwriting traits to what I believe to be the key personality characteristics that are common amongst achievers and especially self-made millionaires. (I should note that financial accomplishment is not my only criteria for being successful.)

In fact, many of the super wealthy are no longer or never were, motivated by the money. If you are planning super success in areas other than cash, read on... many of the same personality traits are relevant to the Martin Luther King Jr.'s and the Bill Gates' of the world.

Article continued here: http://handwritingexperts.com/reports/
---
---
---
Special
: Seminar -JUN 21st thru JUN 25th
---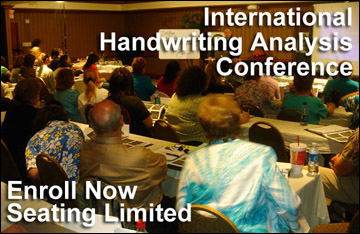 "Join us for this definitive,
comprehensive, everything
you-need-to-know
Handwriting Analysis Certification
Live Training...and walk away a
Certified Handwriting Expert! "
---
STUDENT TESTIMONIALS:
---
"I have already seen and experienced wonderful changes through grapho-therapy. People at work now seek me out as an expert in my field, and I have have many recent offers to manage important projects. All this happened in about a month from first raising my t-bar!"
—Diane McCafferty Engineer, Sandy Hook, CT
"This course has been amazing! With a background in clinical research, my first reaction was to search for the evidence that this science is accurate. Upon investigation, biologically, handwriting analysis' validity makes perfect sense. Ultimately, my own personal improvement was all the proof I needed to change from skeptic to believer!"
— Deborah Mraz Clinical Research Specialist, Wilmington, NC
"If you're at the point where you want to change your life, this course is a must! You'll learn more about yourself and other people than you ever thought possible, and you'll make money in the process."
—Jennifer Jeffcoat Sales Rep, Orlando, Fl