**** Making Money With Handwriting Analysis *****
written by Taylor Morgan
and special contributions by Bart Baggett
If you are reading this newsletter, there was a first EVENT that got you interested in handwriting analysis. For me (Taylor) it was when Bart Baggett appeared on a radio show I was hosting out of upstate New York at 7am in the year 2000. For Bart, it was a long ride to summer camp with his father analyzing his handwriting when he was 14.
The first emotion most people get is pure CURIOSITY about myself and how I can change it might be used to change your life.
But the thing that turned it from a hobby into a passion for most people is the possibiity of making some money with this skill. The truth is, I started seriously studying the science when I realized I could earn $100 an hour and I could be more popular at parties. It continues to earn me money and get me attention everywhere I go! Ha.
Now, I'm sure there are lots of other jobs that I could be doing and many would earn more money (Lawyer, doctor, etc.)

Brain surgeons, for example, make some pretty good dough. But I eliminated that from my job prospects long ago - as I carving up someone's skull doesn't seem near as fun and dissecting their personality.
It is very gratifying to be a handwriting expert: the insight into people, the thrill of giving insight into a person's lives and relationships, counseling them, helping choose the right employee, and the joy of helping others make their life better.

But better yet, I make GREAT money doing it. It's not just me - all of our students have the same opportunity to earn money - in every country - and they are!
If you are a graduate of Handwriting University's Certification Course, congratulations. You now have the opportunity to work for yourself earning a great living doing work that is fascinating and fun. We even outlined a 300+ page manual on all the ways to "MARKET" your services inside the "Professional Level 4 Marketing System". So, if you are doing it, open up that manual and follow the steps.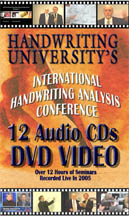 Remember, if you are not a huge fan of home study, you can get certified at this year's Summer Conference, June 21-25th. If you miss it, you can always wait till next year or mail in your tests.
If you are considering taking the Standard Certification Course, but haven't quite made the commitment, here are a few good reasons why it is well worth the investment. There are several areas in which you can apply your knowledge as a Certified Handwriting Analyst. These include:


ENTERTAINMENT: Handwriting analysis is great as "intellectual entertainment" for parties, special events, corporate meetings, and trade shows.
EMPLOYEE SCREENING: Evaluate job applicants, to determine the right fit for the position - and weed out the whacko!

JURY SELECTION: More and more, attorneys are utilizing handwriting analysts to pick the members of a jury.

PERSONALITY EVALUATION: Useful for single people in choosing compatible partners, and couples for improving communication.

GRAPHO-THERAPY: Help people improve their understanding of themselves, change bad habits, or strengthen positive ones.Did you know Handwriting University publishes the ONLY marketing course designed for handwriting experts to market their services and earn $100 more per hour? It is available right now to any student or trained analyst or as a part of our deluxe home study course.
Brenda Petty
================================
In this edition of Weekly Strokes, the first issue in a 3-part series on earning money using your Certification Skill, we'll take a look at the ENTERTAINMENT aspects of handwriting analysis.
================================
Sylvia Tooker was one of the first graduates of Handwriting University, in 1995. (Actually it was still called Grapho-Analytics at that time. Wow, we've grown internation in ten years.)

She charges $100 or more an hour to do handwriting analysis at parties, corporate events, etc. and her clients include Fortune 500 companies such as Frito-Lay and Sprint. She began marketing herself by simply looking through the Yellow Pages, and contacting event planners. Sending flyers and brochures wasn't effective, so instead she began contacting them directly: she'd make an appointment, go to the office, and analyze their handwriting. "It totally amazed them, and they couldn't wait to throw it into their parties."
Sylvia is one of our most successful graduates in the circuit of doing live analysis for entertainment. Follow-through is also important, in establishing an ongoing relationship with event planners. "Every year, I touch base, if I haven't heard from them in awhile. Keeping your name in front of people is necessary, and giving them ideas they might not have thought of before." She finds that the work is seasonal: the Christmas holidays are always a busy time, and she also sees a jump around prom time, when she's booked for after-prom parties.
Sylvia has done handwriting analysis for events ranging from 10 people at a family gathering, to big corporate events. She also volunteered her time at charity fund-raisers, which brought her referrals for larger venues - including a trade show where Sprint was promoting its new teleconference system.While she sat in the main Sprint office in Dallas, customers in the trade show booth had their handwriting analyzed via teleconference, with 2-way picture enabling them to see each other. Handwriting Analysis isn't Sylvia's main career; it "began as a hobby, and then I decided to use it to make some money." For her, it is "additional income without too much effort." She adds that there is tremendous income potential, "If people really get out there and market."
You can learn more about Sylvia from her website. And, you might even want to hire her for your next corporate event.