---
Next Teleclass:
---
Jan Marszalek - NLP and Handwriting Analysis for Personal Change
Thursday, June 1, 2006
6:00 pm Pacific Time / 9:00 pm Eastern Time
Professor Jan Marszalek - NLP and Handwriting Analysis for Personal Change

Professor Marszalek will teach you all she can fit into a one-hour time slot about using Neuro Linguistic Programming and Handwriting Analysis to effect personal change in your life. You'll have to come to Dallas to meet her in person and catch her full presentation, but you certainly won't want to miss her preview teleclass!




Register here: http://handwritinguniversity.com/preview AND, listen to the replays of all of the previous Seminar Preview Teleclasses here:
http://handwritingu.url123.com/pssreplay
---
Want to attend a live event?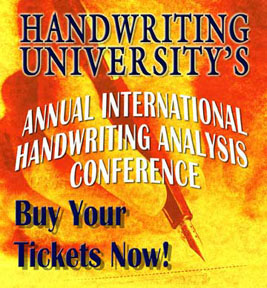 This year's Annual International Handwriting Analysis Conference is sure to be the best yet. We have lots of new guest speakers, new advanced material and of course, a fun and entertaining format.
Join us in Dallas, Texas, June 23rd -June 25th 2006
Save $100 if you purchase your tickets now.
More info here:
http://www.myhandwriting.com/seminars/dallas2006.html

"This seminar has changed my life. It is the most efficient and effective method for personal development and for improving the quality of one's relationships."
—Kim Radcliffe, Attorney and Mediator, Orlando, FL
"If you're at the point where you want to change your life, this course is a must! You'll learn more about yourself and other people than you ever thought possible, and you'll make money in the process."
—Jennifer Jeffcoat, Sales Rep, Orlando, Fl
"This course has been amazing! With a background in clinical research, my first reaction was to search for the evidence that this science is accurate. Upon investigation, biologically, handwriting analysis' validity makes perfect sense. Ultimately, my own personal improvement was all the proof I needed to change from skeptic to believer!"
— Deborah Mraz, Clinical Research Specialist, Wilmington, NC
"I have already seen and experienced wonderful changes through grapho-therapy. People at work now seek me out as an expert in my field, and I have had many recent offers to manage important projects. All this happened in about a month from first raising my t-bar!"
—Diane McCafferty Engineer, Sandy Hook, CT
---
Comments From Students
---
This handwriting course is better than any drug or shrink. I do appreciate your humor- not a boring class. I'm in control of any and all changes in my life, I'm able to remove bad traits, improve traits that improve me as a person. I'm understanding people through handwriting. I'm able to help others change their lives. You were an answered prayer when I found your website! Peggy Walla, Corporate Officer, Columbus, TX , USA

"In less than a month after changing my handwriting the way Bart suggested, things started to happen. I got rid of an abusive boyfriend, got better grades, and met my fiance. That was six years ago. The changes have helped me accomplish two degrees and a wonderful relationship. As a bonus, it was easy." ...Christian Chrane, Dallas, TX Come for your own life changing experience:
http://myhandwriting.com/seminars
---
Handwriting Courses on Special this week:
http://myhandwriting.com/discounts.html
---
CONTACT US TO LEARN MORE:
---

Bart Baggett, Author and Lead Trainer
Maryann Redhead, Director
HandwritingUniversity.com
1-800-398-2278
admin @ myhandwriting.com

http://handwritinguniversity.com
Subscribe to our free Newsletter!
---
| On-Line Catalog | Free Special Reports | Handwriting Self-Test | Hire an Expert | Free Newsletter |
| Place an Order | Become a Reseller / Affiliate | For the Media
| Top of Page |
Handwriting University.com • admin @ myhandwriting.com

As seen on National TV shows : CNN, Court TV, The Other Half, Leeza, Fox News Network, and more! We have certified handwriting experts in over 17 countries through our home study courses. Are you next? This is the world leader in handwriting analysis, graphology, and document examination training.
USA site • India site • Australia site