See Hidden Personality Traits Using Advanced Trait Stacking
Featured Story and Video Segment
"See Hidden Personality Traits Using Advanced Trait Stacking", by Bart Baggett
Not every personality type trait shows up in one stroke of handwriting. And not every handwriting sample contains the letters you need to clearly identify a single trait. The more you learn, the more you realize there is more to learn.
Its time for the ADVANCED COURSE.

That's when you need to "read between the lines" using the advanced technique called Trait Stacking. Once you have mastered identifying the 70+ primary traits (found in the level Certification Course), you can then start to stack traits to find hundreds of personality styles that would otherwise remain hidden to the amateur analyst. Even certified analyst find this course essential.
In fact, you might already be stacking traits intuitively, but this course gives you Handwriting University's proven system, taking the guesswork out of the equation.
In today's video segment, Bart Baggett will show you how to build a case for a specific trait using Trait Stacking by first locating primary traits, then identifying reductive and support traits to see if the specific HIDDEN trait can be determined from a handwriting sample. If you are ready to move to the next level of handwriting analysis, this video is for you! After you watch this video clip, consider ordering the entire DVD course.
It might sound confusing at first...but you'll get the hang of it. If you already have at least 50 traits memorized, this is your next step.
Check out this graphic page from the new "Advanced Trait Dictionary" and this video segment taken directly from the new DVD series:
Advanced Handwriting Analysis Home Study Course.
This video clip is one small section of
our entire new "Advanced"DVD/ CD home study course.
This course now available in India and the USA.
Visit this link to order the entire seminar on DVD and CD.
If you are ready to take your handwriting analysis skills to the next level....here is a sneak preview of that amazing conference and what you will experience from the DVD video home study course (now shipping).
It's a sneak preview because we've packaged a complete set of lectures from our advanced conference into the Advanced Handwriting Analysis Home Study Course, including 8 DVD's and 4 CDS with supporting materials and the long awaited dictionary of advanced traits.
It's time to expand your handwriting analysis knowledge and skills in the areas of counseling, block printing, hiring and screening, criminal tendencies, physical and mental health, as well as advanced traits, stroke formations and trait stacking.
---
...includes some of the best live lectures such as Health in Handwriting, Hiring and Screening, Making Money with Handwriting Analysis, Handwriting for Counselors and Hypnotists....and much more.
Plus, Bart Baggett's long awaited dynamic lectures on Advanced Primary Traits, Trait Stacking and Stroke Formations.
Get your copy at www.handwritinguniversity.com/products/advanced/
This new Advanced course is now available in India (in rupees) for a limited time. Supplies limited of this fast selling home study course.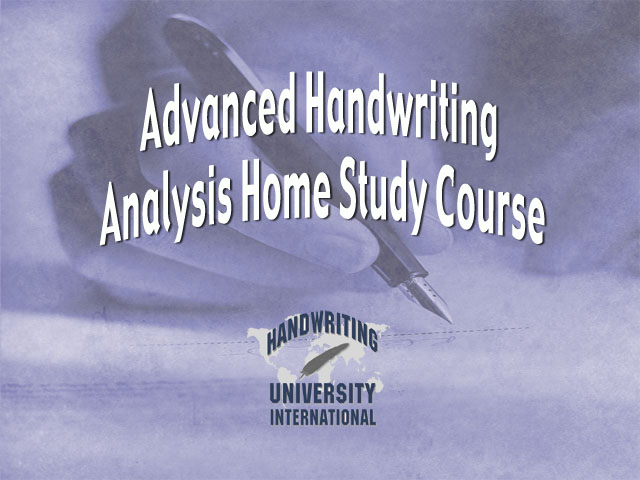 What's New
Join me at the next International Handwriting Analysis
Conference in Las Vegas...tickets are limited, we sell out each year.
For more information, click here or the image below: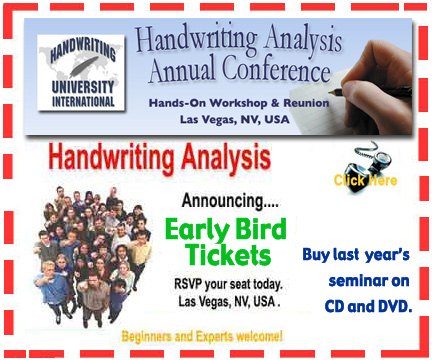 Click Here to learn more
Student Comments
Student Reviews
"I have already seen and experienced wonderful changes through grapho-therapy. People at work now seek me out as an expert in my field, and I have had many recent offers to manage important projects. All this happened in about a month from first raising my t-bar!"
- Diane McCafferty